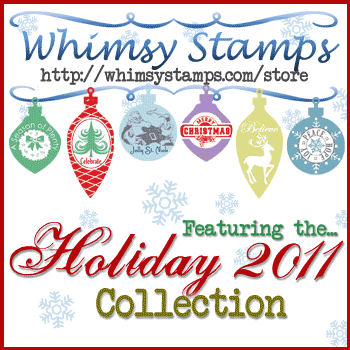 Hi everyone and welcome to
Day 5
of the
Whimsy Stamps October Rubber Die Release Showcase
!
On 12 October,
Whimsy Stamps
released this month's rubber designs and new shapeology dies. From then until 19 October the Whimsy Stamps DT and Special Guests are showcasing these fabulous new stamps and dies with a
daily mini blog hop.
Each mini blog hop has a new release prize hidden somewhere along the way and you have
24hrs to enter each prize draw
.
To be entered into today's mini blog hop prize draw, be sure to
leave a comment on ALL of the DT's posts listed below by 12.00 PM EST tomorrow
. All winners will be announced on the
Whimsy Inspirations blog
after 12.00 PM EST on 19 October.
To take a peek at today's fabulous new release creations by the Design Team, please click on the links below...
I am part of today's hop, but after collecting a very upset daughter from school, I've had to abandon everything for some "mummy & me" time. I will photograph my card later tonight when she's gone to bed and then upload it. So please bear with me. I am very upset for her at the moment. All I will say is that some parents are really not fit to be parents if they bring their children up to disregard the feelings of their friends. It's not some petty playground squabble either, but something that has been running in the background, unbeknownst to us. I'm not quite sure why human beings can't treat each other with love and respect and consider each other's feelings. I could go on and on about this, but I know it won't change anything, it won't change people. So I will stop there. It just makes me so very sad.
Remember that the entire new release is available to buy
right now
from the
Whimsy Stamps store
along with all your Whimsy favourites.
Thanks for stopping by and don't forget to check the
Whimsy Inspirations blog
tomorrow for the next mini blog hop list!
Hugs,