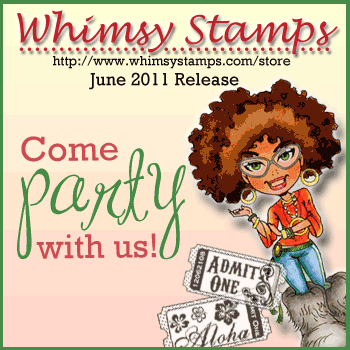 Hello and welcome to the Whimsy Stamps June new rubber release BLOG HOP!
We have 15 fabulous new
Whimsy Stamps
plus 2 new wonderful
dies
to show you today! These new goodies are available to buy right now from the
Whimsy Stamps store
along with all your Whimsy favourites. We also have our wonderful special guests joining us for this hop -
Beate Johns
,
Deb Routledge
,
Deb Mitchell
and
Elaine Hughes
.
The Whimsy Stamps DT have been
sneak peeking
these fabulous stamps for the past 5 days, so if you missed them be sure to hop on over to the
Whimsy Inspirations Blog
for some more inspiration!
Here is a full list of the wonderful new rubber stamps and dies being released today:
3 stamps from Crissy Armstrong
Bart's BBQ ~ Fairy Day Dreams ~ Journey Into The Sea

4 stamps from Meljen's Designs
Garden Bird House ~ Garden Fence ~ Mailed With Love ~ Sick Little Bear

4 stamps from Kenny K
Alice Chains ~ Bling Baby ~ Showgirl ~ Surfer Dude

4 stamps/sets from Raindrop Echo Designs
The Good Life Tickets ~ Into The Farm BG ~ Summer Letter Seals ~ Thank You Tiles

2 dies/sets from Raindrop Echo Designs
Cloud Die Set ~ Hot Air Balloon Die
If you would like to participate in the hop and you didn't arrive here from
Crystal's blog
, please
CLICK HERE
to return to the beginning of the hop at
Chris's blog
.
The hop starts today (Wednesday June 15th at noon EST) and ends on
Wednesday June 22nd
at noon EST.
For this hop we have 6 different prize draws! We have not one but
TWO grand prize draws
, so two lucky hoppers will win a large selection of new release stamps.
Grand Prize 1
will be for those who help us advertise the hop, and
Grand Prize 2
will be for those who hop along with us. We also have
4 mini candy stops
throughout the hop where you can enter to win a new release stamp! I'm not going to tell you where they are, so if you haven't found them you'll just have go back to the beginning and start hopping! *wink*
Today Whimsy Stamps is also releasing its first issue of the
Whimsy Stamps Inspirations Magazine
! It's packed with amazing samples from the design team and customers as well as three different tutorials that you can follow along with step-by-step. We are excited to bring you samples that have never been seen before and we hope that they will inspire you to create using your favorite Whimsy products! You can find the magazine here:
http://issuu.com/whimsystamps/docs/issue1
Please feel free to leave your comments and click the Facebook "Like" button to let us know that you enjoyed it!
For my blog hop creation I used one of the stamps from the
Thank You Tiles
set and made a set of notelets complete with matching box:
I used SU Kraft card (I'm almost out of that now, *sob*!) and SU Whisper White cardstock for the matting and layering. The DP is from the
Prima 6x6 'Botanical' paper pad
and I distressed everything with my
Tim Holtz Vintage Photo distress ink pad
.
I wanted to emboss the actual stamped image but didn't have any brown embossing powder. So I used the Distress Ink with clear embossing powder...but you need to work fast! I got all my supplies to hand, stamped the image using the
Vintage Photo ink
, quickly sprinkled it with extra fine clear embossing powder before the ink had a chance to start to dry and then heat embossed:
I love that Spellbinders have produced the small Labels 1 and small Labels 4 nesties so that there is now no need to cut one of the shapes out to if you want a slim border. Well... I don't actually own the Labels 1 small, just the normal
Labels 1
nesties, so I used them to die cut the kraft matt and then used the same die cut as a template to draw the smal and hand cut the white card. I've put the Labels 1 small nesties on my wishlist now, ha ha!!
I have been ooh-ing and aah-ing over the gorgeous handmade rolled roses for a while now, and so as I've been commissioned to make a wedding card I bought the
Marianne Creatables Chinese Roses die.
Once I'd received it I thought that perhaps I'd wasted my money as it's quite easy to cut out the unrolled shape yourself! So I made a rolled rose myself, then opened the die cuts and used them, and much prefer the lovely precise cut they give! Once I'd cut them out of white card using my Cuttlebug, I inked them up with the Vintage Photo ink
before
rolling them. Then once they were rolled I gave a final swipe of the pad to the top to emphasise the edges:
Unfortunately I haven't been well for almost a week now which stopped me participating in the sneak peeks - boo! I did, however, manage to colour up
BLING BABY,
and once I feel better I shall make a card with her. I used some Spica Glitter pens on the rim of her glasses, her hooped earrings, her necklaces and the buckle of her belt (if you click to enlarge you may be able to see just a touch of sparkle!). I think her glasses should be white rimmed to stand out against the deepness of her skin, but I'm not brave enough to use my white pen, ha ha! So the green sparkly glasses are staying!
So now it's time for you to continue the hop by hopping on over to
Erin's blog
.
Finally, here is a complete blog hop list in hopping order:
Thank you so much for hopping with us today and I hope you enjoy the new release!
Hugs,