WOW! I'm still in a complete state of shock, but I just have to share my MEGA-EXCITING news with you all - I've been invited to join the DTs of ...
YOUR NEXT STAMP
YOUR NEXT STAMP
is a
brand new
rubber stamp company full of fun and whimsical designs, founded and run by sisters Karen and Robin, and based in Canada. They have loads and loads of fabulous stamp lines...Fun with Fhiona, Under the Sea, Jungle Friends, Fairy Tale Princess to name but a few of my personal faves!
Click here to take a look at YOUR NEXT STAMP!
And of course, the fantastic YOUR NEXT STAMP blog
here
! I am so very excited to have the opportunity to work with YOUR NEXT STAMP, and I can't wait to get my very first stamps!!!!
A huge THANK YOU to Karen (and also Robin) for choosing lil ole me to be on the YOUR NEXT STAMP's very first DT. And a big CONGRATS to the other crafting divas who have also made the team - I look forward to working with you all, and becoming great friends!
You can purchase all of the fabulous stamps through YOUR NEXT STAMP's online store
here
where you can currently get a 15% discount off all orders for THIS WEEK ONLY! Just enter the code THANKS at the appropriate place when you checkout. And that's not all! YOUR NEXT STAMP offers free shipping within Canada and US for orders over $55 and free international shipping for orders over $75! The online store also stocks paper, embellies, copic markers, ink pads, etc.... for all your stamping and crafting needs!
and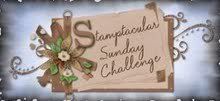 STAMPTACULAR SUNDAY CHALLENGE BLOG (starting October 09)
I'm sure you all know about the weekly Stamptacular Sunday Challenge blog? And if you don't, you do now!! LOL! Be sure to hop on over and check out this week's challenge, plus you'll meet the other new DT members - I am in great company!!! Thank you so much Priscilla for choosing me!!

As you can tell, I am SOOOOOOOOOOOOOO pleased and excited!!!!

Hugs, Sem xx